Wine grapes brought  Cris and Joann Cherry to Central California in the mid nineties, but it was the quality of life that seduced them to stay.  There is something about Paso. They sold their Mexican restaurant in San Diego and put their efforts into renovating  'dive bar' on a prime corner of the downtown Paso Robles city park. The rest as they say is history. In the spring of 1998 the Cherry's opened Villa Creek.
They were one of the forerunners dedicated to taking advantage of the area's finest local products.  Villa Creek has created a niche showcasing what they call early California cuisine.   Renowned Chef Tom Fundaro has been working with local farmers since 1998 preparing local, organically or sustainably farmed products in a rustic style that is Villa Creek's signature.  Not only do they serve innovative fresh local cuisine for dinner they have one of the liveliest bar scenes downtown.
                                                                                                             photo via villa creek website
A limited menu is available at the bar, featuring favorites like carnitas tacos, not nachos, and the shepherds plate.
                                         Not Nachos
For the full bar menu go here:  http://www.villacreek.com/menus/index.php
Should you linger after the incredible appetizers, they do have one of the best wine lists in the area and an incredible seasonally tweaked menu.
                                 boneless beef short ribs with sage gnocchi
One of the seasonal favorites that people rave about are the butternut squash enchiladas
                             photo via villa creek website
To see the full dinner menu go here:
The restaurant itself is beautifully decorated creating a lovely early California ambience that complements the food.
Okay so they have a fabulous (one of the very first) established restaurant in Paso.   Next they decide they should make wine to complement the farm to table food they serve at Villa Creek.  They are visionaries. They wanted to crank it up a notch.  Villa Creek is one of the few that are in a class by themselves….The winery is not fancy. They have a couple of motley, friendly dogs that greet you when you pull up.  The clincher is the wine…Cris Cherry himself often is pouring..,.He doesn't ,make his presence known.   Suddenly you realize..hmmm he is the master of the whole operation.   All of their wines are wonderful. The Willow Creek Cuvee is one of the most lauded.  The Wine Spectator Insider gave the 2009  93 points.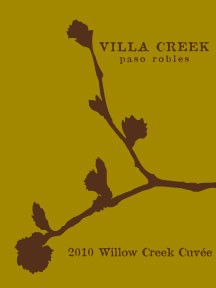 The High Road James Berry Vineyard  2009 also earned 93 Points.
We personally love their "Pink" which is a bargain at $14 and always sells out quick.  It is a great summer wine. "Tank fermented saignee shows notes of peach and lead to a rich palate of just ripe strawberries, orange zest and anise. With it's strawberry flesh hue and light body, Rosé is just as fun to look at as it is to drink.?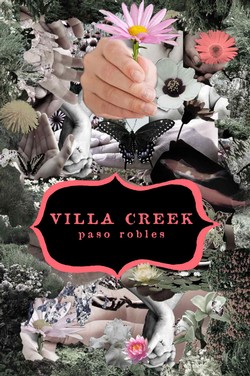 Not only is the wine itself wonderful.  The artwork on the bottle is created by the Cherry's daughter Camille.  And $2.00 from each bottle goes to a wonderful local charity Jack's Helping Hand that serves ailing and disabled children.  To learn more about it go to www.jackshelpinghand.org.