If you haven't explored the Paso Robles wine area you are truly missing out. There are a lot of interesting events in and around the area coming up. Savor the Central Coast is a four day food and wine extravaganza highlighting the foods and wines of the Central Coast. It is held at the historical Santa Margarita Ranch and other locales around the Central Coast. Join Sunset Magazines' editors and celebrity chefs (including Tyler Florence)  for culinary tours and seminars.   For more information go here :
http://www.savorcentralcoast.com/
photo courtesy of savor the central coast
Enjoy an afternoon with Diane Worthington at Halter Ranch. Learn tips on how to develop your own recipes and expand your culinary talents. Begin your day at the farm and end it at the vineyard in their Victorian Farmhouse kitchen. For more information go here: 
   http://halterranch.com/events/events_at_halter/a-day-with-diane-worthington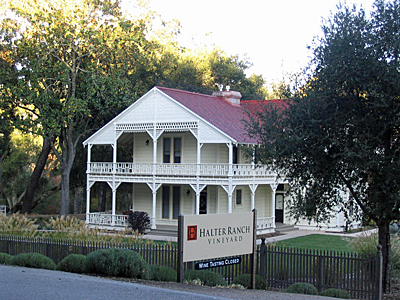 image courtesy of appellation america
                                                                                                                                                                                                                                                                                                            The wineries of Paso Robles will host a variety of events throughout Harvest Wine Weekend, October 15 - 17.    Explore some of your favorite wineries and check out some new ones that you haven't yet experienced.  For more information go here:          http://www.pasowine.com/events/harvestactivities.php  
                                                                                                                                                                                                                                                                                                                                                                                                                                                                                                                                                                                                                       This past weekend we revisted Adelaida Cellars.  Their wines have recently had some great press.    This is another winery that literally doesn't make a weak wine.  Stop in if you haven't been there in a while. 
Recent Accolades
Version (Rhone Style White) 2008: 92 points, Connoisseurs' Guide
Syrah Viking Estate Reserve 2007: 92 points, Connoisseurs' Guide
Viognier 2008: 92 points, Connoisseurs' Guide
Version (Rhone Style Red) 2007: Best in Class, San Francisco International Wine Competition
Cabernet Sauvignon 2007: Best in Class, Los Angeles International Wine Competition
Zinfandel Michael's Estate 2007: 92 points, Wine Spectator
                                                                                      photo courtesy of the delicious life
Read their post regarding the Paso Robles Wine Area here:    http://www.thedeliciouslife.com/paso-robles-cayucos-and-san-luis-obispo-unexpectedly-extraordinary-escape-to-the-central-coast/                                                                                                                                                                                                                                                                                                                                                                                                                                                     We also checked out a couple wineries that we haven't visited. Lone Madrone has some really nice wines.  We also stopped at our all time favorite lunch place Farmstand 46.  The boys had the irresistible " goat" .  I tried another of their amazing pizzas.  WE LOVE THIS PLACE!!!   For years we had to drive to Templeton or Paso for lunch.  Sorry McPhee's  ( we still love you) Farmstand 46  is just too convenient and amazing all at once.  If you are out in the Templeton Gap area tasting do you really want to leave?
We ended our day at Booker.  All their wines are beautifully crafted. Check out their recent ratings here at RobertParker.com. 
Sadly their wines are so good that they are being forced to close their tasting room soon until they have some of their new vintages available.
In my next post I will explore an interesting design aesthetic that seems to be popping up all over the Central Coast Wine Country.